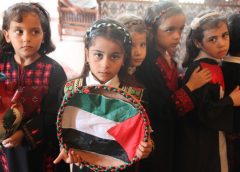 By Lilia Mukhamedyarova
President, Solidarity Charitable Foundation
Solidarity Charitable Foundation has delivered to Gaza a humanitarian cargo of medical supplies. Now some departments of Palestinian hospitals – Cancer, Intensive Care, Heart Disease and others – are provided with nine kinds of medicines for three months. It was the first humanitarian mission of Russia to besieged Gaza Strip.
For 10-years-old Abdurakhman it is difficult to smile. He is a victim of Israeli Operation Cast Lead: a shell allegedly intended for one of the leaders of militant group Izzadin al-Qassam crippled the boy. It happened two and a half years ago. Doctors saved him.
But since then his father has broken all the mirrors in the house. And mutilated Abdurahman has imprisoned himself within four walls.
He does not communicate with peers. He draws tanks and airplanes; with Stars of David.
For medical treatment they take the boy to Israel. In Gaza doctors have no drugs, no equipment, and no facilities. Alas, all hope is for those who shoot.
Is it all part of some monstrous and cruel economical design? The Palestinians have to wait for months for the Israeli secret service authorization of their children's treatment, and then pay loads of money to a clinic. Cast Lead has secured Israeli operating rooms with clients who are game for anything. Those who are not willing may go on crying their eyes out watching the sufferings of their sick child year in year out. That's what the isolation is all about.
A friend who feeds is friend indeed?
The international community for some reason persists in its attempts to solve the food crisis in besieged Gaza, but it doesn't pay much attention to the fact that there are practically no drugs there. In vain does the blockade Gaza remind
that wounds and diseases kill there more people than hunger that it lacks building materials and equipment, that terrible unemployment and other "particular features of a humane blockade" have devastating effect on its population.
Having lost his patience, Health minister of Gaza Basim Naim announced last summer a state of emergency in the health care system. Doctors in the world-famous Shifa hospital (which gained its fame during Cast Lead Operation, taking in the wounded and dying from all over the besieged Strip) had to cancel all operations due to lack of medicines and equipment. Nothing like it ever happened before, not even during the Israeli carpet bombings!
– These days in Gaza 130 kinds of medicines and 180 types of medical equipment are lacking, – Basim Naim tells us. – These figures can be slightly changing depending on humanitarian aid by charitable organizations from around the world and the EU, which make their deliveries through the administration in Ramallah.
The ministry has been subject to this peculiar "humanitarian intervention" since when people voted for Hamas in the 2006 elections. They argue in the ministry that the U.S. and Israel have been putting pressure on Palestinian Authority of Mahmoud Abbas in order to reduce the supply of medicines and medical equipment to Gaza. As a result, by last March medical stores in Gaza went empty, and last summer Basim Naim had to announce the impending catastrophe.
Muhammad Omar, the head of the medical stores, a short man with sad spectacles sitting uncomfortably on his nose, is showing us around his half-empty domains. "Thanks to you, now the intensive care unit at the main Shifa hospital is provided with an important medication Vancolon for three months – this is for the most desperate and bedridden patients. For 2 months cancer patients had been waiting for this drug Xeloda, and now here it is," – the keeper of the empty shelves is naming the drugs we have brought with us. He leads us on past the empty shelves for the newborn units that need dialysis, past some glaring voids on other shelves. He stops, raises his hands helplessly, and his glasses look even sadder.
Cast Lead
Doctors in the hospitals of Gaza are able to help only 30% of patients now. But in order to fully realize the scale of emergency Basim Naim is talking about, one has to take a tour three years back and walk along the Gazan roads burnt down by Cast Lead.
"We walked over corpses," – Dr. Muhammad Al-Kashif describes the work of Shifa medics. He heads the Gaza branch of the UN and many other public health organizations. Today, a doctor in Gaza is a soldier at the front line. During the war, five doctors were killed – right in the hospitals, while working. Israeli warplanes bombed and destroyed 33 hospitals and clinics in Gaza.
You can't take it from them, they have good aim.
"It so happened that the war found 140 doctors in Shifa who were taking there their Master's course at the time, – says Dr. Muhammad, – but even so many doctors could not cope with the influx of wounded and dying. There were not enough tables for operations – and we operated on the floor. 400 people died before we could help them. My brother was operating on a wounded when he was told about his son's death. But he continued to work. Only having finished the operation did he go to meet his son's body."
Doctors, professors, medical luminaries who gathered those days in Gaza from all over the world, could not give an answer – what weapons Israel used for killing Palestinians. "We subsequently identified three types of new weapons. One of them contained small magnetic particles amputating people's arms and legs. Another one would dissolve internal organs – one's kidneys and liver simply melted away. The third contained white phosphorous, which causes infertility and affects the spermatozoa. People were brought into the operating rooms already blackened, "- says Sobh Skayk, the chief surgeon of Shifa. Analyses of land revealed 33 poisonous toxins. The same toxins were found in the dead bodies.
Even if all the terrorists from all around the world had gathered in Gaza, Israel, testing on the residents of the narrow coastal strip all kinds of deadly weapons, deserved universal condemnation. Indeed, over 50% of the population in the densely populated Gaza is children. But while saving their corporals, the Israelis can kill other people's children with ease…
The country which does not exist and in which nothing exists
In a local children's shelter, where doctors also work, we met a wretched woman Fatima Scheib, who gave birth to Amir – a boy with no face. She would not dare to bring him to the shelter; she only showed us his photograph.
Can you imagine a face of a mother whose son has no face?
Over the past two years in Gaza doctors found 60 cases of various malformations in newborns. The rate of heart diseases is two and a half times higher than average around the world. Mustafa Razizi Aila, the head doctor of Abdul Aziz al-Said hospital, tells about a sharp jump in cancer, and he is confident these numbers will only increase in the future.
Because in Gazan hospitals they do not even have wards for cancer patients. There are no incubators for babies in intensive care units. 450 Palestinians, suffering from kidney disease, are unable to receive vital for them dialysis, all because there are no special hoses. People are dying curtained off from the rest of a ward just a hundred kilometers away from the sparkling, equipped with state-of-the-art technology clinics in Israel.
Nahid al-Jabari, a graduate of Saratov University in Russia and now hematologist in Shifa hospital says that in his department they are unable to treat anemia at all – they only give patients blood transfusion."We can't carry out aggressive chemotherapy – there are no conditions for that." There is not a single test lab in Gaza, no diagnostics at all, no radiotherapy. Patients' tests are sent to the West Bank or even to Europe!
Nagal has been in a children's hospital for almost a year. The boy looks past me blankly – he's got a brain tumor. In Israel they charge such Palestinian children exorbitant fees – $ 600 per day, 80 thousand dollars for bone marrow transplantation. And one has to wait for permission from Israeli security services for several months. Some children die on the way to a hospital. The refusal rate of Israel to give Palestinians medical treatment for their money is 80%.
Dr. Nahid tells me all this in his quite decent Russian. (In Gaza there are enough Russian-speaking doctors – either married to Russian women or Russian universities graduates). Every day hematologist Nahid faces a difficult choice – whom to give a rare medicine which has arrived from the mainland, and thus to give life?
Does anybody have nerves enough to deal with such task on a daily basis? During my round of the wards of impoverished oncology department, under unbearably sad eyes of dying patients and their families I realized: Gaza today is a challenge to humanity for every one of us.
Gaza – the password of humanity
Israel, trying to erase life from this narrow coastal strip of the Mediterranean Sea, has caused a natural human reaction around the world – a sense of solidarity with the Palestinian people. And now the whole world is helping Gaza.
French doctors led by a professor sneaked into Gaza through underground tunnels. They carried out some unique operations in the besieged Gaza. And upon their return they described it all in French newspapers.
Cairo arranges direct television space bridges with Gaza – Egyptian medical luminaries offer daily classes for Palestinian doctors, deprived of training opportunities.
The Turkish government fully pays for treatment in Turkish hospitals of those Palestinians who managed to escape from the besieged Gaza. All eyes are on Gaza. But the Palestinians themselves give a perfect example of human dignity, too – otherwise would the world be helping them?
In Gaza, they opened two medical schools – in Al-Azhar University and in Islamic University of Gaza. This is also a political act of struggle for freedom – to prepare health workers in isolation from the world of science, education, and medicine. As a result, enrolment competition to the faculty of medicine is the highest of all.
"Today Gaza selects the most intelligent – 97 points from 100 available for the medical faculty. This is the only way to overcome the problem – to break the stones, to eliminate the blockade. Fortunately, our students show a very high level of training,"- says Dr. Mohammed al-Kashif.
Annals of courage
From a far away pier Gaza looks like a cozy sand-coloured seaside town. At a close range it is a settlement composed of hastily reconstructed housing units interspersed with tent sites. And all around, on a gray background there are bright graffiti; quiet, but comprehensible writings to the world – from Palestinian land that is being destroyed, but has not been destroyed.
When walking in Gaza, one cannot help reading all this story of resistance. Profile of Yasser Arafat, recognizable face of Ahmad Yassin, calligraphic messages of Izzadin al-Qassam brigades… The history unveils itself under accompaniment of a buzzing drone – an Israeli drone, whose tentacles react to any wrong move. It is now a robot, not an Israeli pilot who sends the shells on Palestinians. In the sky over Gaza there are 50 of these drones.
Since 2000 in Gaza there were killed at least 7-10 thousand people.
We asked little Abdurahman, whose face was carved with scars like that of Salakhutdin, the liberator of Jerusalem – what would he be when he grew up? An artist – he answered.
And he would also write the history of Palestine.
The compass of one's heart
At the entrance to the besieged Gaza Strip, Egyptian police were extremely nice to our delegation. We were going in with a safe conduct from the Russian Federation Ministry of Foreign Affairs and the Russian Embassy in Egypt, which assisted our Foundation in the delivery of medical goods.We did not have to make our way through tunnels – as the French doctors did. But all along the way from Al-Arish to Rafah, we observed (or were observed by) Egyptian army tanks. Demonstrative politeness of policemen, and the tanks – one more touch to the picture of unbearable reality.
Earlier this year, the young people of Gaza destroyed the wall on the border with Egypt, and went at large. It was either an echo of the Arab revolution, or the opposite – its beginning. "The beginning," say the people of Gaza.
"Those were a few hours of freedom, we walked there and back," says the accountant of the Union of Arab Doctors of Gaza Rami Al-Shawa.
The wall was bricked up a few days later, and there were tanks on the roads. For an indifferent and ignorant person it is very easy to stray from the landmark in this political theater of the absurd.
That is, if the compass of one's heart does not point in the direction of kindness and mercy; in the direction of those who are being destroyed, but haven't been destroyed.