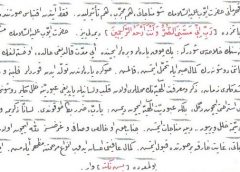 Many people, including the Turkish, think that Ottoman Turkish is different from today's Turkish language. The reason behind this is that Ottoman Turkish is written with Arabic letters, which I call Islamic letters.
Latin letters has been used for Turkish language since 1928; before that, Islamic letters had been used for almost a thousand years. Since the alphabet change we have lost our direct connection with the past, our ancestors, Ottomans.
Although I knew how to read Ottoman Turkish for years, I did not learn how to write it; but I have just started to learn how to write in Ottoman Turkish. It is not hard, but not easy either. Since I am acquainted with the letters and many words, this is not going to be hard for me inshaallah.
You have to learn first how to scribe the letters at the beginning, in
the middle and at the end of a word. Letters are written separately in a word. Shape of letters changes a little when combined with another letter depending on it place
in the word (beginning, middle or end).
Then the four letters, which helps to pronounce the words: Alif, Ha, Waw, and Ya. Alif is used for the sound 'a' (like in the 'car'); Hais used for the sound 'e' (like in the 'pen') and for the sound 'a' (mostly for the nominative form of a noun); Waw is used for the sounds 'u, ü, o, ö' (like in the 'put' 'üzüm' 'or' and 'bird' respectively); and Ya is used for the sounds 'ı' and 'i' (like in the 'about' and 'ink').
That's
not all. You need to learn the grammar rules, some exceptional words, how to write foreign rooted words, and so on; and plenty of practice writing, of course.
Despite all, learning Ottoman Turkish is exciting. Knowing how to read and write the language of your ancestors are necessary to connect with the past and learn what they think, how they express their thought and feeling, and more. This connection with the past enlightens people, who know almost nothing or distorted information about history. Since they have the opportunity to learn many things about the past, it helps them to think more, to question the contemporary narrative of history, and to feel proud (not embarrassed) of the past.
People used to complain that there were few Turkish making researches in the Ottoman archives; but on the other hand, foreign researchers, professors or writers who want to learn at first-hand about Ottoman and its civilization were many. However, it seems that this is going to change in near future.
Intellectuals, historians, writers, and administrators have been mentioning the need to teach Ottoman Turkish to the society. They see this as absolutely necessary.
And recently it has been included in some high school curriculums. Students have the chance to learn Ottoman Turkish easily at young ages. Moreover, every year many private courses are started to teach Ottoman Turkish in many cities of Turkey. In Istanbul, for instance, Fall 2011 Ottoman Courses started in five different places. Society shows interest in Ottoman Turkish increasingly.
The more people realize the magnificent past we have, the more people learning Ottoman Turkish is increasing.