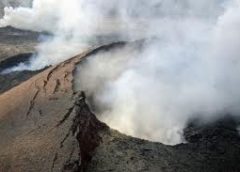 THE EMERGENCE AND RUNNING OF THE UNIVERSE: CAUSE AND EFFECT OR A DIVINE POWER?
"There are four main mechanisms for cooling the air to its dew point: adiabatic cooling, conductive cooling, radiational cooling, and evaporative cooling. Adiabatic cooling occurs when air rises and expands. The air can rise due to convection, large-scale atmospheric motions, or a physical barrier such as a mountain (orographic lift). Conductive cooling occurs when the air comes into contact with a colder surface, usually by being blown from one surface to another, for example from a liquid water surface to colder land. Radiational cooling occurs due to the emission of infrared radiation, either by the air or by the surface underneath. Evaporative cooling occurs when moisture is added to the air through evaporation, which forces the air temperature to cool to its wet-bulb temperature, or until it reaches saturation."
In a science class of a high school or a science book or magazine all the natural events are explained with causes in a discourse that you read above. You learn that something constantly causes another thing and always anything is caused by another thing. According to that understanding, there are some forces in the universe and they cause everything to run in a smooth, perfect way. However, these forces are independent from each other and they are not related. Furthermore, they are not coordinated by any other conscious power. Yet we are not able to say that they are not dominated by a supreme power according to this way of explaining because the champions of this approach, which is actually the mainstream scientific approach and prevailing in all academic circles,
suggest that there is a supreme power which coordinates all this universal mechanism and its name is nature.
Not too long, two hundred years ago scientists would explain everything again with causes however this was not an obstacle to believe in a god. They believed that it is god who set up all this mechanism with these causes and they were studying the mechanism that he set up. However, the concept of a mechanical universe devised by Sir Isaac Newton, one of the greatest scientists that the history of science has ever recorded, led all the scientific circles accept a universe which works like a clock without interference of a supreme divine power. Newton himself was a believer of god and he said that the universal order was created by god and presented the orbits of the planets as the proofs of existence of god. He defended that the creation of living beings and granting of them with eyes corresponding to the light in the external world could not have been explained by coincidence or pure chance. Newton reconciled the concept of mechanical
universe with the causal approach and design proof. After Newton submitted his theory into the French king of time the king inspected the book and then asked "So, how do you explain the role of god in the universe?" Newton answered that he was the first who set up the universal machine and now it is working on its own.
The scientists after Newton did not agree with him and with the effect of positivism on science they totally gave up the idea of a divine power which created the universe and runs it forever. With the secularization of the sciences the belief of god was excluded from academia and a secular understanding of science became norm in scientific circles.
Now, as I mentioned above explaining the emergence and working natural processes through causes has become standard and we can categorize all discourse under the three phrases; the first causes create this, let's say an animal. The second: It forms itself; it comes into existence and later ceases to exist and the third: It is natural; nature necessitates and creates it. What is worrying is that the believers also use these phrases without realizing their implications. That quasi objective approach of science strengthened the hands of atheists and infiltrating the academia they spread their atheistic ideas. In consequence of this structural change in scientific educational system unfortunately a generation who did not believe in god was raised in twentieth century.
So, are the claims of materialist philosophers and scientists irrefutable? Was nobody able to strike a blow against them? Well, of course, some did and in our next article I am going to try to present some examples from their works.