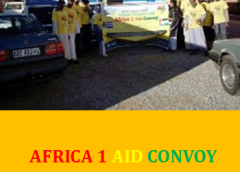 The Africa 1 Aid convoy is on track, as the products to be delivered in Gaza loaded from the offices of Al Quds Foundation in
Gauteng to be delivered in the Al Quds Foundation warehouse in Durban. The humanitarian aid departs by ship from Durban on July 15, while the motorcade will still leave by road to create awareness on the Palestinian issue.
The Africa 1 Aid Convoy, the first planned Aid convoy was planned for the Gaza strip on a mission to deliver Hummanitarian Aid the Gaza Strip. South Africans pride to be the first in Africa to launc an Africa Aid Convoy for Gaza. The main purpose of the Africa 1 Aid convoy is to help break the siege on Gaza and to rebuild, deliver Aid to the people of Gaza.
Africa 1 Aid Convoy will deliver the following Aid to the people of Gaza:
25 Ambulances to the value of 1.5 Million Rands
Various medical Supplies of the value of 2.5 Million Rands
Various Generators worth 1.2 Million Rands
Water Projects worth 2.7 Million Rands
Olive trees worth 2.3 Million Rands
School bags and stationary worth 1.2 Million Rands
1.8 Million Rands will be spent rebuilding the Massagieds destryed in Gaza
The Convoy is an initiative spearheaded by the Al Quds Foundation SA , Muslim Judicial Council and other partners. It is supported by a host
of well-wishing civil society organizations and charities, and It aims to gather support and to spread awareness about the plight of the Palestinian people living in Gaza and bring much needed aid to the besieged Gaza Strip.