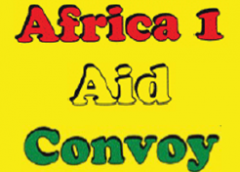 The embargo implemented in Gaza still continues. 1,5 million Palestanians- approximately 2/3 of them are living in refugee camps- have been suffering for a long time. Despite the limited access to Gaza and the hardships on the borders, aid convoys to Gaza will not stop.
One of them is Africa 1 Aid Convoy, organized by Al-Quds Foundation, SA,  which will be coming from South Africa passing through Zimbabwe, Zambia, Tanzania, Kenya, Ethiopia, Uganda, Sudan and Egypt.
Objectives of the convoy are defined as follows:
To create an awareness in Africa on the plight of the people of Gaza;
Vest the leadership of the Convoy to Gaza in Al-Quds Foundation;
To assume responsibility for the humanitarian struggle for freedom in Gaza;
To lead the Convoy with sincerity, which shall form the essence of the Convoy;
To reach the people of Africa and to serve as a means of conveying the "Message of Islam";
To provide humanitarian aid to the People of Gaza.
The needs of the people of Gaza are determined by the leadership of Gaza and not by convoy organization. Some of those things already identified are:
•Generators
•Medical Supplies
•Water/Desalination (Detoxification) units
•Stationery
•Educational needs
•Medical needs
•Funds
•Left hand drive vehicles
The Convoy comprises of three legs which are Awareness Campaign (reached its goals), South African Leg before departure to Gaza (in June) and Departure to African Countries to Gaza (in July).
The Convoy aims to enter into Gaza from Egypt border in the first week of Ramadaan.
Many organizations pledged their support to the Convoy. Channel Islam International, MJC, Jamiat Ul Ulama (Lenasia branch), Radio Islam, Palestinian Solidarity Group, Central Islamic Trust, PSA, Al–Aqsa Muslim School, Universities, Colleges, Islamic Schools, Communities and Civil & Government Agencies are among them.
The South African Muslim community is known as a very influential community. It has been playing a pivotal role in the struggle for the safeguard and liberation of Al-Quds, Palestine.
For more visit www.africa1convoy.za.net