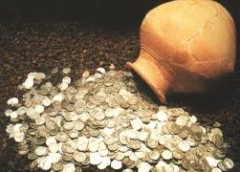 Our body, mind, heart, soul and many delicate emotions do not really belong to us. They were given to humankind by the Creator. These things were entrusted to us in other words. Moreover, they are precious things to be protected and used in the way the Creator pleases.
If anyone uses these entrusted things in a bad way and causes them to be gone away in vain, it is certain that he will be questioned by the One who gave him those things.
Once upon a time, two men find themselves in a great wartime. Everyone is afraid of losing their works and factories; for the time is full of danger and calamities of the war period. These two men have got worries as well like everyone.
At a time they think how to secure their factories; a man comes and brings news from the sultan of the country-who has given these two men their factories earlier. He says that the sultan wants to buy their factories and run them during the wartime, and give the factories back to them after war in a better condition. He adds that their factories will be secure if they sell them to the sultan, and they will get good benefit out of it. On the other hand, he continues, if you do not sell and cannot preserve the factories, you will be treated like a traitor who has betrayed the sultan.
One of the men accepts willingly to sell his factory to the sultan right away. The other man rejects the proposal and says, "Who is the sultan? I do not give anyone anything that belongs to me."
When the war is over, the first man takes his factory back in a better condition, moreover he is rewarded that he has not harmed the thing entrusted to him. The other, since he has failed protecting the things entrusted to him, is punished severely by the sultan.
Who wants to purposefully lose the things he has got? No one! Human wants to keep safe his life. He wishes to live happily, but on the other hand, he does not
want his life to be finished. He wants his home to be safe and secure so that he and his beloveds live happily ever after. Human on his own cannot achieve this on his own, it is apparent. To whom would he trust? His father, his boss, major or the government? Who can secure his belongings, his life, family, happiness? The question is "How can it be possible?" If we listen to what the Creator say to us about that, we understand that we should sell our body, soul, mind and other subtle emotions to Him. Then he will give them back to us in better condition. And we will be rewarded, for we have secured the things entrusted to us.