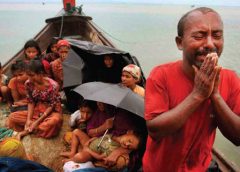 Rohingya Muslims in Arakan State, located in the west of Myanmar, are under oppression since early June and international community is not aware of the real dimensions of the tyranny and unjust practices applied upon Rohingya people by the Buddhist Rakhines with the support of the police force in the country.
Mr. Ahmed Azam Abdul Rahman, UNIW (The Union of the NGOs of the Islamic World) Council Member for Malaysia & Chairman of Global Peace Mission (GPM), Malaysia, paid a visit to Myanmar between 11 and 13 July in order to make observation about the situation of Muslim Rohingyas in Arakan. We are sharing below the brief report prepared by the visiting delegation.
Rohingya: The Most Persecuted and Forgotten Muslim Minority
1. A fact finding mission by Global Peace Mission, Malaysia (GPM) and Muslim Youth Movement of Malaysia (ABIM) was sent to Yangon, Myanmar from 11-13 July to meet all relevant Muslim organizations in Myanmar to seek ways and means to assist the Rohingya Muslims from continuous persecution by the majority Burmese Buddhist in Myanmar.
2. We met political party leaders representing the Rohingya, NGO leaders, journalist, businessmen, ulama and youth leaders.
3. We were informed that the General (Retired)Thein Sein's party, Union Socialist Development Party (USDP) which is the ruling party, is trying to mediate Myanmar's transition to democracy amidst hardcore military junta that is against it. The competing forces between Thein Sein, Aung San Su Kyi, leader of the National League for Democracy(NLD) and the Military junta in the newly democratic space created under the pressure of the Western nations is still fluid with uncertainties.
4. However, ironically, on the issue of Rohingya, all of them seem to be with one voice i.e. Rohingya are Bengalis migrating from Bangladesh and thus they are illegal immigrants and non citizen. Even Aung San Suu Kyi, the icon of democracy and human rights of Myanmar gave a very lukewarm response on this issue. She said that the Rohingya issue has to be settled within the purview of the legal framework of Myanmar.
5. On the 13th of July, President Thein Sein made a very shocking and self explanatory statement to the United Nations High Commissioner for Refugees (UNHCR). He was in an official visit to Myanmar to mediate on the Rohingya issue. President Thein Sein told UNHCR that there are only two solutions for the Rohingya i.e. either sent them to the Refugee camps or sent them to a Third country. This uncompromising and arrogant statement coming from the President of Myanmar has uncovered the true face of the Myanmar government i.e. Islamophobic and Xenophobic. This statement has rendered the Rohingya as a permanently stateless community due to race and religion.
6. United Nations, European Union, Organisation of Islamic Countries (OIC) has expressed grave concern on the statement by the President of Myanmar, and a flurry of diplomatic engagements being carried out to find a final solution to the Rohingya issue.
Repression, Discrimination, Massacre, Forced Displacement, Ethnic Cleansing
7. The Rohingya has suffered grave human rights violation perpetrated by successive Burmese regimes since Independence in 1947. Arbitrary killings, rape, torture, land confiscation, forced labour, forced relocation, theft, extortion perpetrated by the Government authorities in cohort with the local Rakhine Buddhist happened continuously since then. In 1982, dictator General Ne Win enacted The New Citizenship Law which stripped the Rohingya as citizen of Burma (Myanmar – new name instituted by the Military Junta). Since then, the Rohingya were treated as illegal immigrant where fundamental human rights such as freedom of movement, rights to education, rights to employment, and rights to health are being denied. The situation was so unbearable that forced 1.5 million out of 3 million Rohingya migrated to Bangladesh, India, Pakistan, Saudi Arabia, UAE, Malaysia, Indonesia, Thailand, Japan, Australia, New Zealand, USA, UK and Europe. The ethnic cleansing policy succeeded in cutting the Rohingya population into half. The recent massacre started in June 3, 2012 is believed to be a deliberate and pre-planned policy by the Myanmar government to complete the ethnic cleansing policy of another 1.5 million Rohingya to any third country.
8. After almost one month of the planned massacre, the National Democratic Party for Development (NDPD), a political party representing the Rohingya reported number of casualties resulted from the planned crisis as follows:
43 villages being attacked
5,915 houses burnt
555 being killed (number varies from 500 to 10,000) There is no way to verify these information due to strict government control on any news coming from Arakan.
300 injured
34 mosques destroyed
4 universities destroyed
24 schools destroyed
300 arrested
35,400 become refugees. UNHCR put the figure as 90,000 refugees.
500,000 lost source of income due to curfew. They could not work on their farm.
20,000 lives by the river bank and jungle to escape persecution
9. We expect more casualties in the next few weeks especially after the statement by President Thein Sein, has encouraged and motivated the Rakhine Buddhist militia to complete the ethnic cleansing policy with extreme zealousness. We also expect hunger and starvation to be rampant and beyond control.
What Can Be Done – Modus Operandi
10. We have decided to launch the "IFTAR RAMADAN for ROHINGYA" campaign during this month of Ramadan as an emergency relief to ward off the eminent hunger and starvation calamity. We have worked out with the Chairman of All Myanmar Islamic Relief Organisation, Mr. Abdul Hafiz @ Aung Naing to provide 5 basic needs of the Internally Displaced Person (IDP) i.e. rice, flour, cooking oil, bean, milk for 15.000 families (1 family x 6 members) approximately 90,000 IDPs for one month at USD70 per family. At least we need to raise USD1.050.000 during this Ramadan.
11. All Myanmar Islamic Relief Organisations (AMIRO) consist of 5 major Muslim
organisations i.e. 1. Jamiyyatul Ulama of Myanmar 2. Islamic Religious Affair Council of Myanmar 3. All Myanmar Maulvi Organisation 4. All Myanmar Youth Religious Organisation 5. Myanmar Muslim National Affairs Organisation. All these bodies were given Consultative status with the Religious authorities of the Government. They are recognised and authorised by the Myanmar government to deliver humanitarian aids to the Rohingya IDPs in Arakan. In fact they were flown to Arakan by the government to witness the intensity of the crisis. Immediately after the visit, AMIRO organised a relief campaign amongst Muslim community in Yangon and managed to deliver food packages worth USD200.000 and another USD600.000 by vessel to Arakan for distribution.
12. AMIRO is willing to assist UNIW through Global Peace Mission to distribute any humanitarian aids into Arakan.
13. Global Peace Mission (GPM) and the Muslim Youth Movement of Malaysia has already launched 'IFTAR RAMADAN OR ROHINGYA' with the support of UNIW to raise at least USD 1.050,000 for food assistance by the end of Ramadan to enable the IDPs to celebrate Eidul Fitr as well.
14. All donations can be channelled through GPM accounts, and then it will be channelled to AMIRO for them to organise the distribution. There are requests by donor organisations to visit Arakan during the distribution process. Please bear in mind that Arakan is still under curfew, and only limited numbers of United Nation agencies are being allowed access to the conflict zone. AMIRO will seek advice from the Government on allowing foreign NGOs entering the conflict zone on purely delivering humanitarian assistance.
Ahmad Azam Abdul Rahman,
Council Member, UNIW (The Union of the NGOs of the Islamic World)
Chairman, Global Peace Mission, Malaysia
Source: http://theunity.org/en/