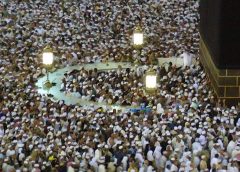 There are many benefits and wisdom of Hajj concerning both the person and the Islamic World.
Hajj provides man's small and big sins to be forgiven, and his heart to be cleansed. The following hadith of our Prophet gives us the good news that entire sins of a man is forgiven except the rightful due (of another person):
"Whoever performs hajj, does not talk trivially, and stays obedient to Allah SWT he returns home like a baby without sin. (His sins are forgiven)"
During the Hajj, especially in the plain of Arafat, millions of Hajis (pilgrims) in white shroud-like garments gathering and praying all together to Allah SWT reminds people the day when they will come together in the field
of resurrection. It is kind of a rehearsal of the day of resurrection. It shows people that the worldly ranks and wealth go as far as the gate of tomb, and a great day of judgement awaits them.
Hajj just becomes a new beginning for any Muslim and its influence continues for an entire life. A haji, even if he is an ordinary man, turns towards Allah SWT (like a wali (saint) who has spiritually got high levels) realizing that He is the Lord of the Earth. Because he as the guest of Allah SWT witnesses and feels during Hajj that Allah SWT is not only his Lord but also millions of people's who respond the invitation of Allah SWT by coming from all around the world to serve Him. That haji understands thoroughly that the Lord to Whom he turns towards is the Lord of all people and universe as a wali realizes, and he starts to feel the spiritual states and pleasures that awliya (saints) experience. In this way, Allah SWT has Hajjis experience the great bliss of being a close servant to Him. Therefore, after returning home hajis (having experienced such great and divine pleasures) enthusiastically strive to be beloved servants of Allah SWT, to be wise man, to obtain His divine pleasure, and not to go astray.
Whoever performs Hajj
witnesses that people with different languages and colours, from various countries and cultures are all the servants of Allah SWT; and obeying His command they all come together for a great convention in the holy places. Muslims from entire world have a great opportunity to meet and see each other, to know about their problems, and to help each other. In this way the brotherhood bond among Muslims gets stronger with the attendance of millions of hajis. Being in the same places and having worn simple garments everyone understands clearly that "Rich has no superiority over poor; white has no superiority over black; superiority can only be in the takwa (piety and good action)." They experience that people are equal. In this manner, Hajj presents great opportunities to strengthen the unity among Muslims and Islamic countries.