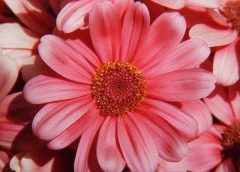 15- Keep saying these words which beautify your marriage: You're right honey! Possible! I love you for the sake of Allah! I really understand you! God bless your hands! You are unique! I am sorry! You are always in my heart! Let's hope the best inshaallah! You are God's gift to me! That's all right! Thank you! I'm not angry at you! I'm praying for you! I trust you! May Allah always keep you with us! It's okay! May Allah bless you! That's great! Don't worry!
16- Keep the secrets of your family to protect the happiness of your family
17- In small discussion between husband and wife, the spouses, for the peace of the family life, should think whether they want to prove that they are right in the discussion or they want to be happy.
18- Love your spouse as a friendly gift of Allah. Give your love to her/him not to the physical appearance, which changes soon, but to the beauty of character and moral
19- Mother and father should always give salaam (greetings) of Allah, and smile to the family members; because they increase affection towards each other.
20- Give presents to everyone in the family. It is a means to attachment.
21- The first school of children is home. Their first teacher is their mother. Houses are not only for staying or eating, they can also be schools.
22- Do not forget that you are mother and father of your children while trying to be friends to them. Because your children can find friends anyway, but they cannot find parents other than you with the compassion and care they
need.
23- In family life we must love the love and the means to love most. And we should hate the enmity and the causes enmity most.
24- Family is the environment where the character and self confidence of your children improve. Every manner of the members affects this progress in a positive or negative way.
25- The best thing that a father would do for his children is to love their mother and to show his love. And the best thing that a mother would do for her children is to love their father and to show her love. The children raised in such a family feel themselves safe. Otherwise, they look for the love and peace somewhere outside.
26- Home must be like a factory of happiness. Every member should know that they are the cogwheels of that factory so that they act accordingly for the peace and happiness of the family.
27- Finally, the best example and guide, Prophet Muhammad (PBUH) said, "I leave behind me two things, the Qur'an and my example, the Sunnah, and if you follow these you will never go astray." This hadith reminds us the most important two things that we must make as guides in our family life, too.