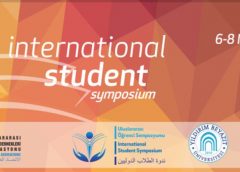 Yıldırım Beyazıt University and the Federation of International Student Associations (UDEF) are organizing an International Student Symposium in Istanbul on November 6th, 7th and 8th 2015.
The symposium will discuss how to make Turkey an attraction centre. It aims to contribute to Turkey's becoming a training base in international student mobility. The organizers will also share their experience with non-governmental organizations, student organizations, and people that work for international students in various countries of the world. They want to establish an upper structure that would provide coordination between partner – relevant unit – authority – person – organizations that work for international students in various geographies across the world. They also want to make a literature review on international student mobility and international education, and produce resources for academic studies.
It will be a 3-day organization with the participation of representatives of the countries that host the most international students in the world, of NGO student organizations working for international students, and of the related units of the universities.
There will participants from Azerbaijan, India, Kazakhstan, Russia, the US, Canada, Brazil, the UK, France, Germany, South Africa, Sudan, Egypt, Nigeria and more others.
For more info: internationalstudentsymposium.com