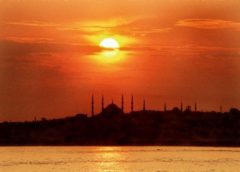 Many people wonder how the communism could not spread in Turkey, although many Muslim and non-Muslim countries, Turkish countries in Central Asia, European countries, and even the southern neighbours of Turkey like Syria got affected. The communism affected the religions, too. Many Muslims, Christians and Judaists lost their faith.
So how did Turkey preserved itself from this irreligion?
The main role of the eliminating of the irreligion, atheism and communism was played by Risale-i Nur in Turkey. If it wasn't for the Risale-i Nur, the religious situation of Turkey would be the same as Turkish Central Asian Republics.
In this regard, Risale-i Nur fought against atheism and communism, protected the faith of the believers, and prepared the ground for the next generations.
In one of the letters he wrote in prison, Imam Bediuzzaman Said Nursi, the author of the Risale-i Nur Collection, mentioned one of his closest students and his great work in the fight against communism and irreligion in Turkey:
Dear devoted brothers,
I claim and justify that Husrev, who was behaved badly
in bad conditions and who was suffering from ill health (may Allah give him well-being) and who was supposed to be dangerous for the nation and the country is a great spiritual hero of Turkish nation and is a saviour of this country, and the nation's sincere and self -sacrificing man to be proud of.
As he has the full sense of ikhlas (sincerity), and doesn't have egoism and hypocrisy and is not addicted to fame, therefore the time comes to reveal one or two of his many services for the country and nation.
With his exceptional and pleasant
pen, this person has written out about six hundred or more treatises and spread them around the country. Doing this, he broke out and stopped the anarchism, which was trying to corrupt the society under the cover of communism.
In order to save the sacred country and his heroic nation from the poison of (communism), he sent powerful medicament (which is the Risale-i Nur). He achieved to rescue the Turkish youth and the future generation out of this danger." (The Rays, 14th Ray, Said Nursi)
The basis of his great service which was understood from the passage above was the remarkable service he made for the Risale-i Nur. From this point of view, Imam Said Nursi was the first to take part in this success.
A good dream which supported this and Imam Nursi's interpretation of that dream is as follows:
A precursory dream interpretation of which became true
Ali who was serving me came and said: "I had a dream. You and Husrev together kissed the hand of our beloved Prophet (pbuh). Then I had a letter that the treatise named "The Staf of Moses" in the script of Husrev was seen on the tomb of the Prophet (pbuh) by pilgrims. That is, Husrev, in my place, had kissed the Prophet's hand through his pen, and he had the favour of the consent of the Prophet." (The Rays, 14th Ray, Said Nursi)